Every once in a while Lipstick+Bread goes to Wodonga to meet with our great friends Manfred and Marie Huber. Over a few days hedonism and pleasure are being the main things we are interested in and our time is devoted to cooking, eating, talking and spending time together.
One thing we always do is that we cook on open fire- what a pleasure!
We were really happy with the food that we cooked, we loved it and are now giving you the recipes as a gift. Use them with family and (new or old) friends, enjoy the food, talk, talk about things that excite you over a glass of wine.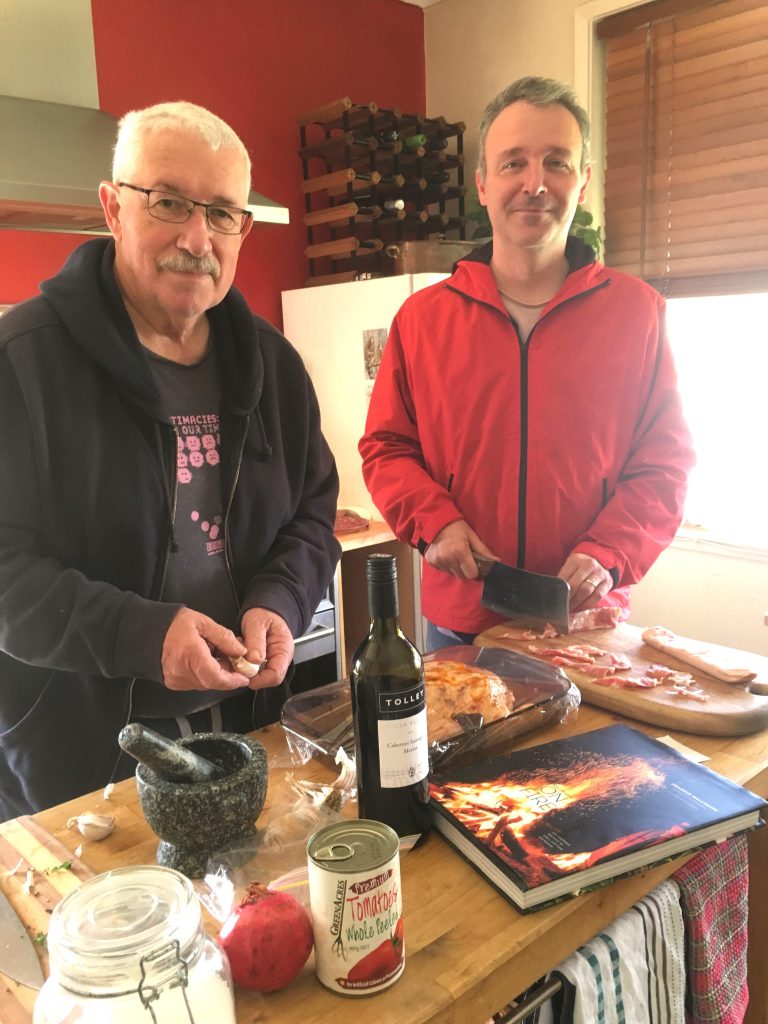 PIRI PIRI CHICKEN
Get a good chicken, free range, preferably organic. Cut it through the middle lengthwise and butterfly it.
To make the Piri Piri sauce use crushed garlic, red-hot chili peppers. Use Birds Eye chilies, or other- depending how hot do you want it to be. Add some salt, oregano, chopped cilantro, lemon juice, pepper and of course olive oil. Now rub the chicken with the sauce and leave it to marinate at least one hour- more would be better.
The key here is to cook the chicken on open fire. Use wood or wood charcoal. Do it slowly, on medium heat to remain the chicken juicy but make sure the skin is charred. During the cooking keep brushing the chicken with the marinade and through branches of rosemary into the coals. This will be amazing!
We suggest you to have the chicken with a tomato, onion and cucumber salad. Cut them into smaller pieces, drizzle with olive oil and lemon and season with salt. Use some fresh basil leaves.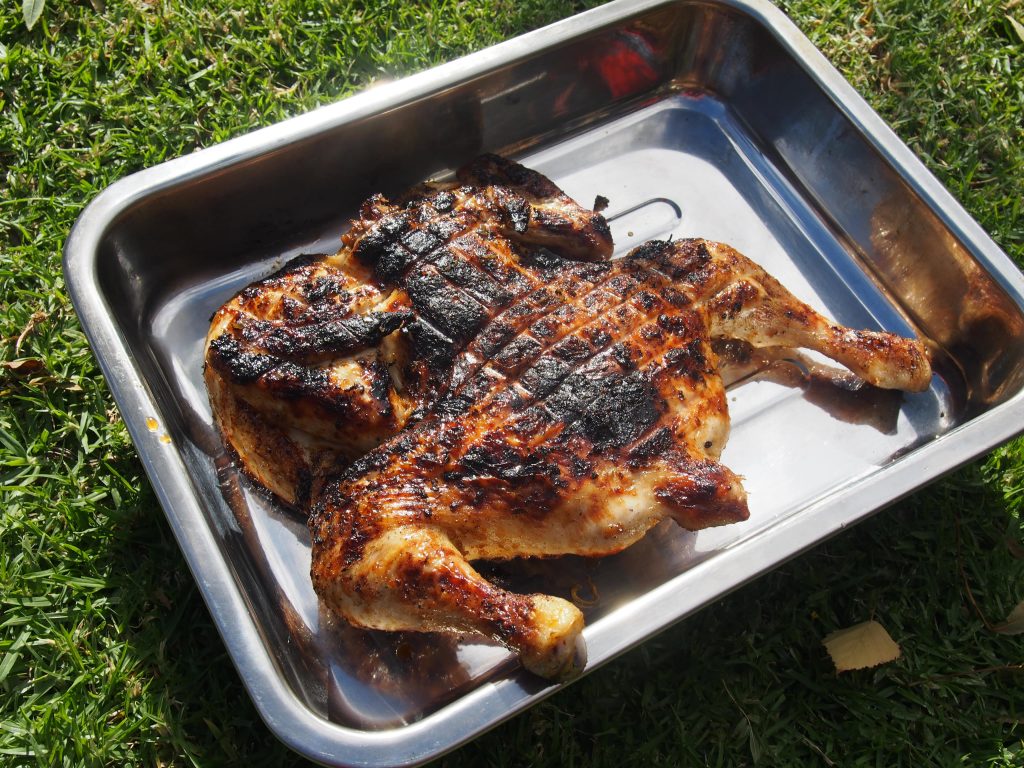 LARD and POMEGRANATE ON CHARRED BREAD
Thinly sliced lard. If you cant get it use the fat from Pancetta or Guanciale.
We used home baked white bread and charred it on open fire. Put very thin slices of the lard on the bread and cover with the pomegranate jelly and seeds. Divine. Have it with some nice wine.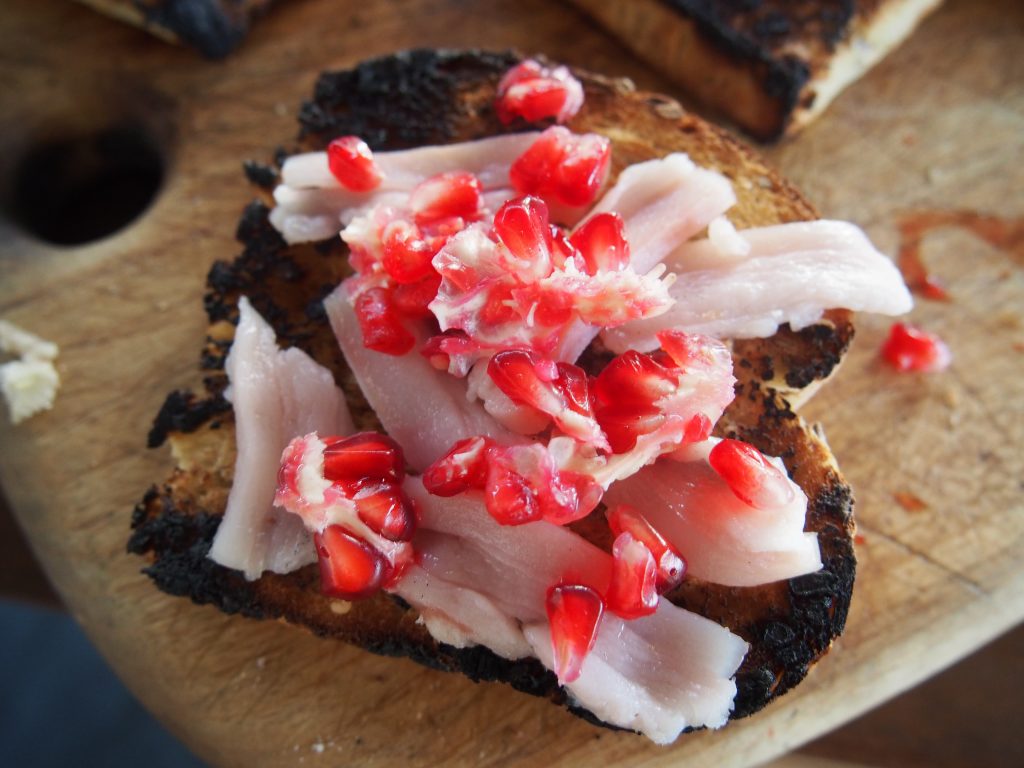 OLIVE TAPAS
24 mixed Olives 2 cloves of garlic crushed
1 red chili cut
1/4 cup of olive oil
Heat olive oil in a terra cotta ramekin with the olives, garlic and chillies to medium heat and serve.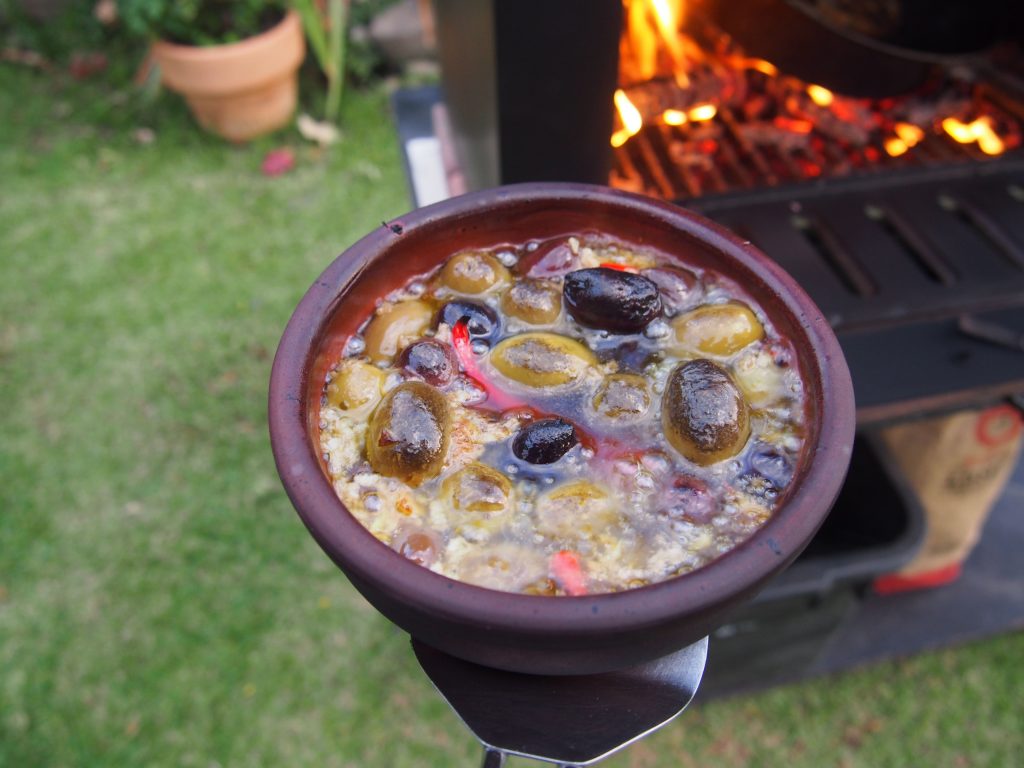 PIZZA MARGHERITA
For the dough use 1 kg of white flour, some salt, 1gr of dry yeast and some lukewarm water. Mix all of it with hand until the dough is moist but still fairly firm. Put in a plastic container cover with the lid and leave 12h in room temperature and 12 hours in the fridge. Then take it out of the fridge and leave the dough outside to get to the room temperature. Use some fresh flour, kneed the dough until elastic. Form small balls and leave them covered with a tea towel to rise for 1 h.
For the sauce use good canned tomatoes and crush them with a fork to get a smooth fresh sauce.
Once the dough is rolled out and stretched cover the pizza with the sauce and grated mozzarella cheese. We used a wood fired oven, cooked the pizza for 3 min and once done we topped it with fresh basil leaves and olive oil.
APPLE RHUBARB PIE
1 sheet puff pastry
2 large apples
3 stalks rhubarb
1/3 cup raw sugar
3 eggs
1 cup heavy cream
1/3 cup ground hazelnut or almond meal
1 tsp vanilla extract
1/2 tsp cinnamon
Pre-heat oven to 200oC, line pie dish with pastry, sprinkle base with hazelnut or almond meal. Peel and slice apple and rhubarb, arrange in circular pattern in dish. Combine remaining ingredients by hand and pour into pie dish. Bake for 35 minutes until golden brown.
VENISON BACK STRAP
600gr venison back strap
2 cloves of garlic
1 onion
2 carrots
2 stalks celery
1 bay leave
3 twigs thyme
1 doz juniper berries
pepper, salt
1 bottle red wine
Combine all ingredients, place with meat in casserole and cover with wine and cook in low oven – 140oC – 150oC for 4 hours or until tender.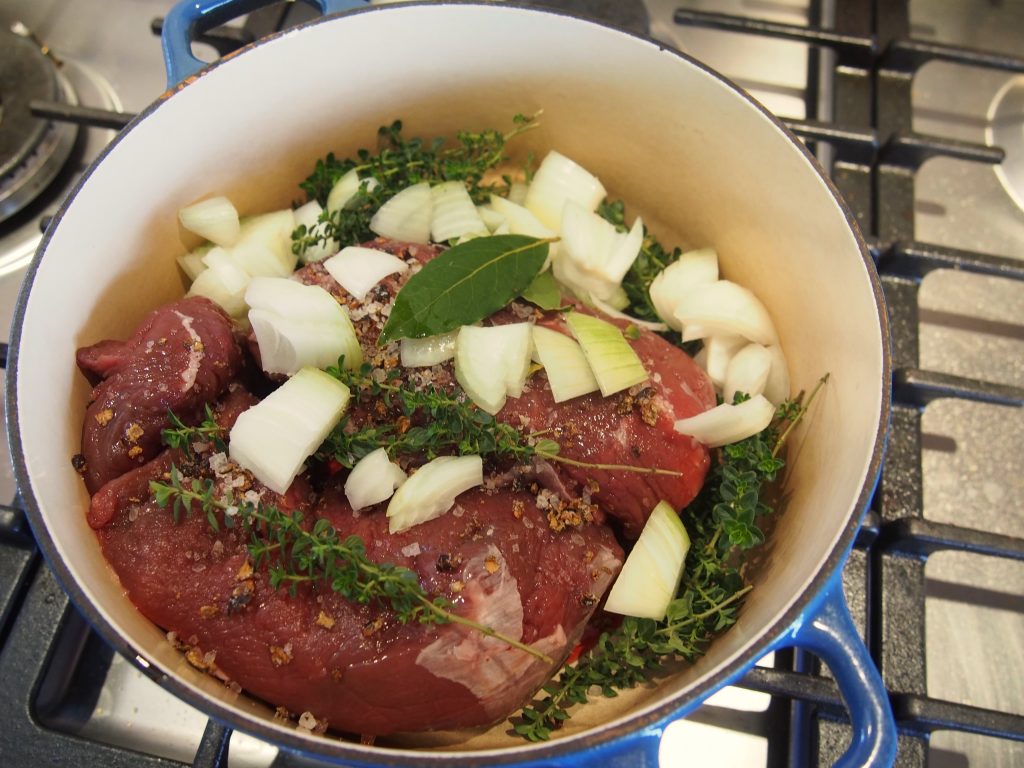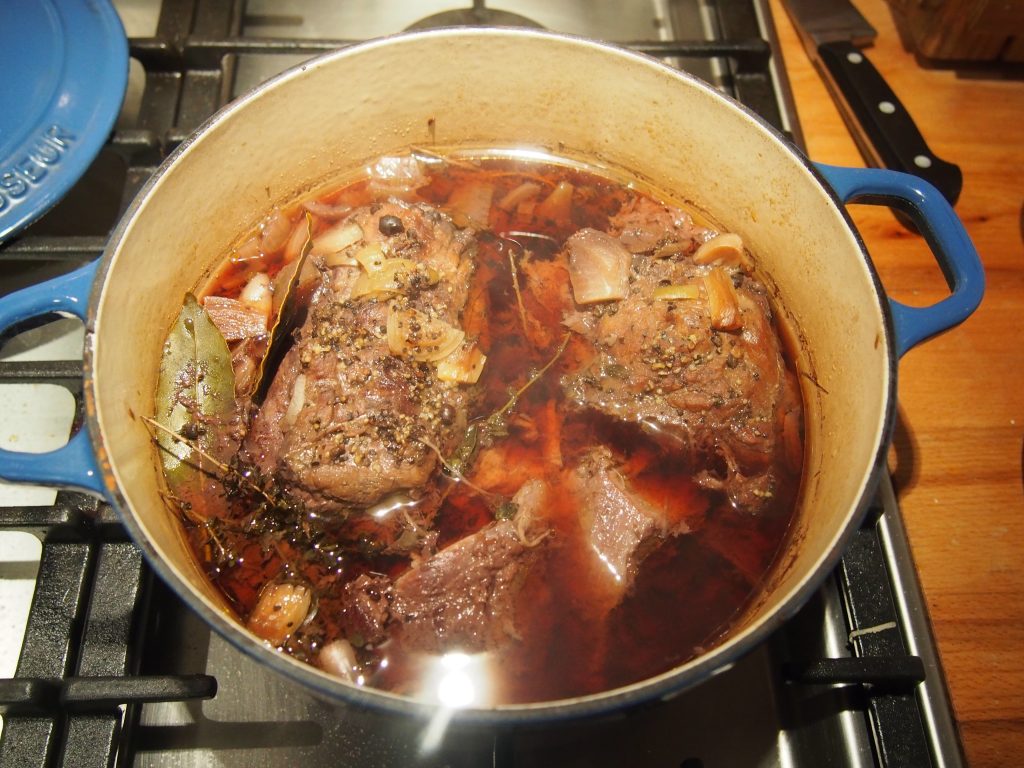 CHICAGO STYLE DEEP DISH PIZZA
Use the dough as described above. Ours was fermenting one more night in the fridge. Once at room temperature put it into an olive oiled deep dish, covering the deep edges of the dish with dough. The edges of the pizza are in this way 3-4 cm high. The thickness of the dough in this case is the same as at the bottom of the dish.
Now, put a lot of grated mozzarella cheese directly on the dough and cover this with quite a lot of fresh tomato sauce- again we used crushed tomatoes out of the can. We backed ours for some 40 minutes in the oven at 220 C. But see how you will go with your oven, the point is to bake it slow enough so the cheese at the bottom melts, the sauce bubbles and the pizza dough gets a nice dark color. Once baked serve toped with fresh basil leaves.