It was finally time again for the Wodonga sessions. We were interrupted by the global pandemic and had an unusual break from our cooking debauchery in 2021, but in 2022 it was again time to drive up north from Melbourne to visit our friends Manfred and Marie, this time joined also by their daughter Rachel, for a tree day cooking extravaganza.
Naturally we tend to lean towards hearty European food, and this time it was no different. For obvious reasons we were influenced by food from the Ukraine, and cooked three dishes from their culinary repertoire. Of course there had to be a Swiss dish, and as you will see on the photo its strangeness is in the colors, but the taste was just amazing. And what would a dinner be without a magnificent Italian dish, with a home made sausage that was first boiled and then cooked on open fire?
The time we spent together was again very special, with plenty of conversations and jokes while cooking, eating and enjoying each others company.
As always we are publishing photos with the precious recipes here on the Lipstick+Bread website.
We can now also tell you that we are planing to work on a cookbook with a compilation of the best dishes from our sessions and some other things. But we still want to do a few more of our cooking sessions first, so this is a future project.
The dishes that you will find here are amazing. We loved cooking them and we would be delighted to enjoy them again. To us this is poetry. Try them for your self. Try them with your friends. Take time and enjoy yourself. Bon appetite!
Potatoes in a Pastry Crust
This delicious free-form tart is a variation of the classic French potato dish "baker's wife potatoes", originally a mixture of potatoes and cheese baked in the always-hot baker's oven.
3 tbl spoon unsalted butter
1 large onion
3/4 cup creme fraiche
1/2 cup chopped curly leaf parsley
Fine sea salt
Freshly ground black pepper
1/4 teaspoon ground nutmeg
2 sheets commercial puff pastry
2 pounds medium sized potatoes, parboiled for 10 minutes, peeled and sliced into 5mm thick slices.
1 egg, lightly beaten, for glazing
In a medium skillet melt butter then add onions and stir to coat for 3 min.
In a medium bowl combine the creme fraiche, parsley, a pinch of salt, pepper and nutmeg. Stir and set aside.
Preheat the oven to 400 F
Lay out the sheet of puff pastry in a baking dish
Arrange an overlapping layer of half of potatoes and leave a 1 inch boarder.
Spread half of the creme fraiche mixture over the potatoes and scatter the cooked onions on top. Arrange the remaining potatoes on top, followed by the rest of the of the mixture.
Lay the second puff pastry sheet over the potato mixture and press the two pastry sheets together to seal. Brush the top of the tart with the egg glaze and cut 4 small holes.
Bake the tart for 30 min then reduce the heat to 300F for another 30 min. till golden brown.
Hot olives with chili and garlic
This is just unbelievably good. Heat some olive oil, with some garlic and chili, then add olives, warm them up and serve. Perhaps sprinkle with some salt and few drops of lemon juice.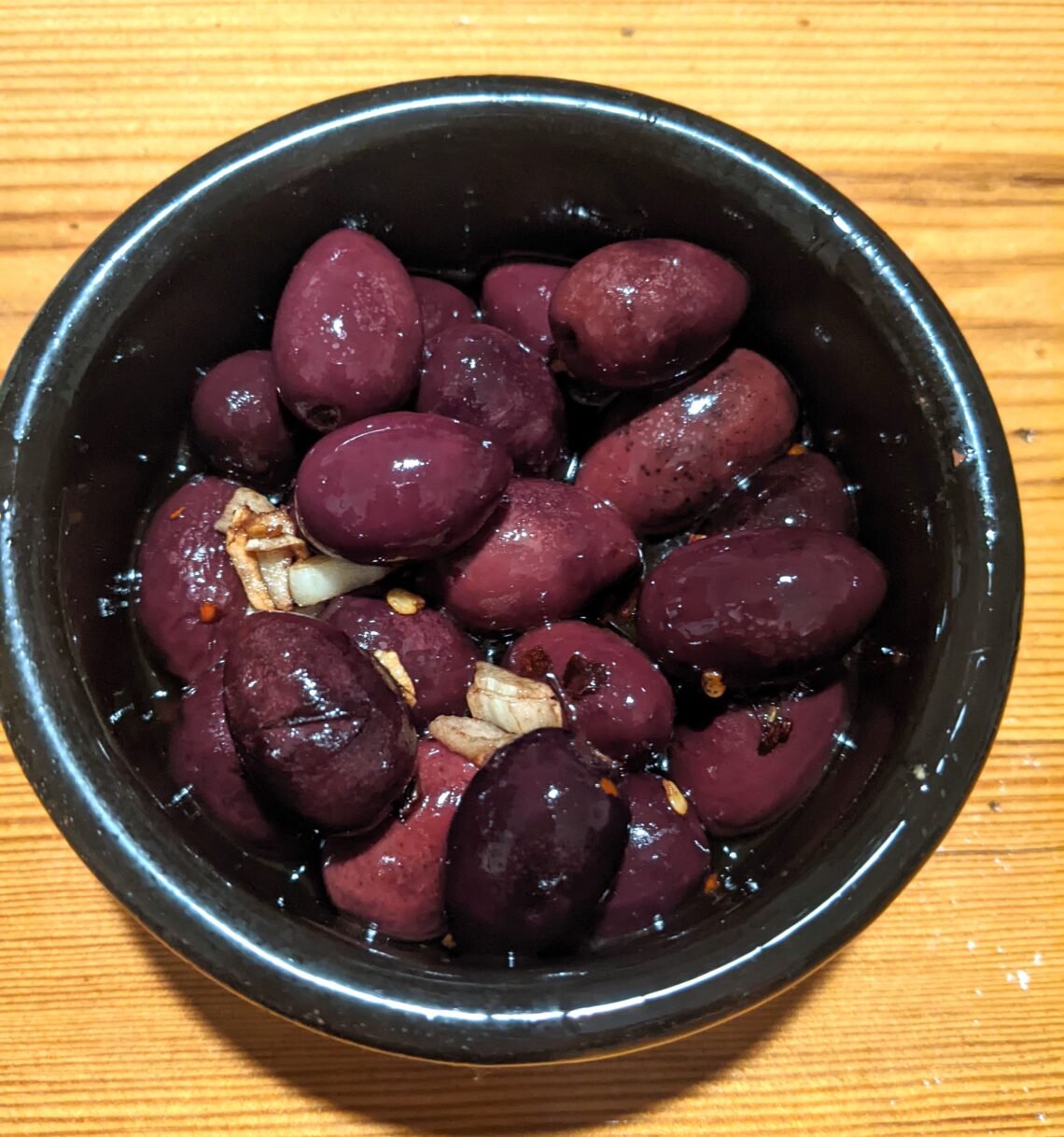 Anchovies with chili from the can
Well, not a recipe for cooking but definitely a recipe for pleasure. You need to know which anchovies and where to buy them. We love anchovies and sardines. These anchovies are Greek and a bit dried before they found their home inside a can swimming in olive oil.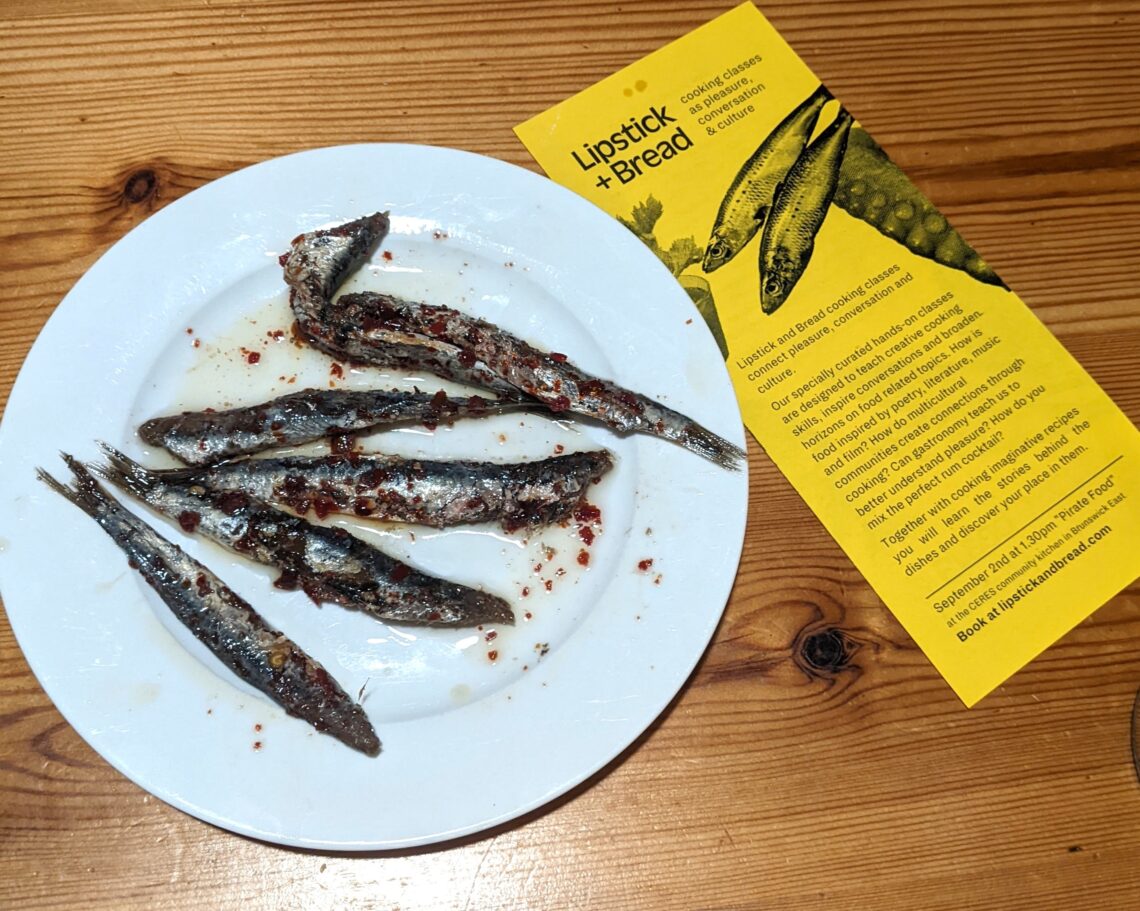 Liver with Spätzle
This is a delicious dish for the winter months. You could garnish the dish with some finely chopped parsley. We didn't as we liked the weird color combination.
Spätzle
750 gram of flour
Salt
5 eggs
Cold water
1 Put flour and eggs in a large bowl and mix with a wooden spoon. Add water till it is a soft mixture
2 Boil a large pot of water and add a pinch of salt
3 Press the Spätzle mixture through a large holed sieve to create small dough pieces and place them in hot boiling salted water. After a very short time the spätzle will rise. Strain them and place into a bowl of ice water to stop them from cooking further.
Lamb Liver
1 Liver
1 Onion
1 Rosemary sprig
1 tsp Flour
1/2 cup of white wine
Salt and pepper
This dish will cook very quickly so you will need all the ingredients ready.
Slice the lamb liver very thinly
In a large frying pan heat oil (very hot) and cook the onions. Add the liver and the rosemary sprig and the white wine and add the teaspoon of flour. Mix well then add the salt and pepper. This will not take long as you don't want to over cook this dish.
Fry the Spätzle in some butter with extra onions and pour the liver mixture over it. Then serve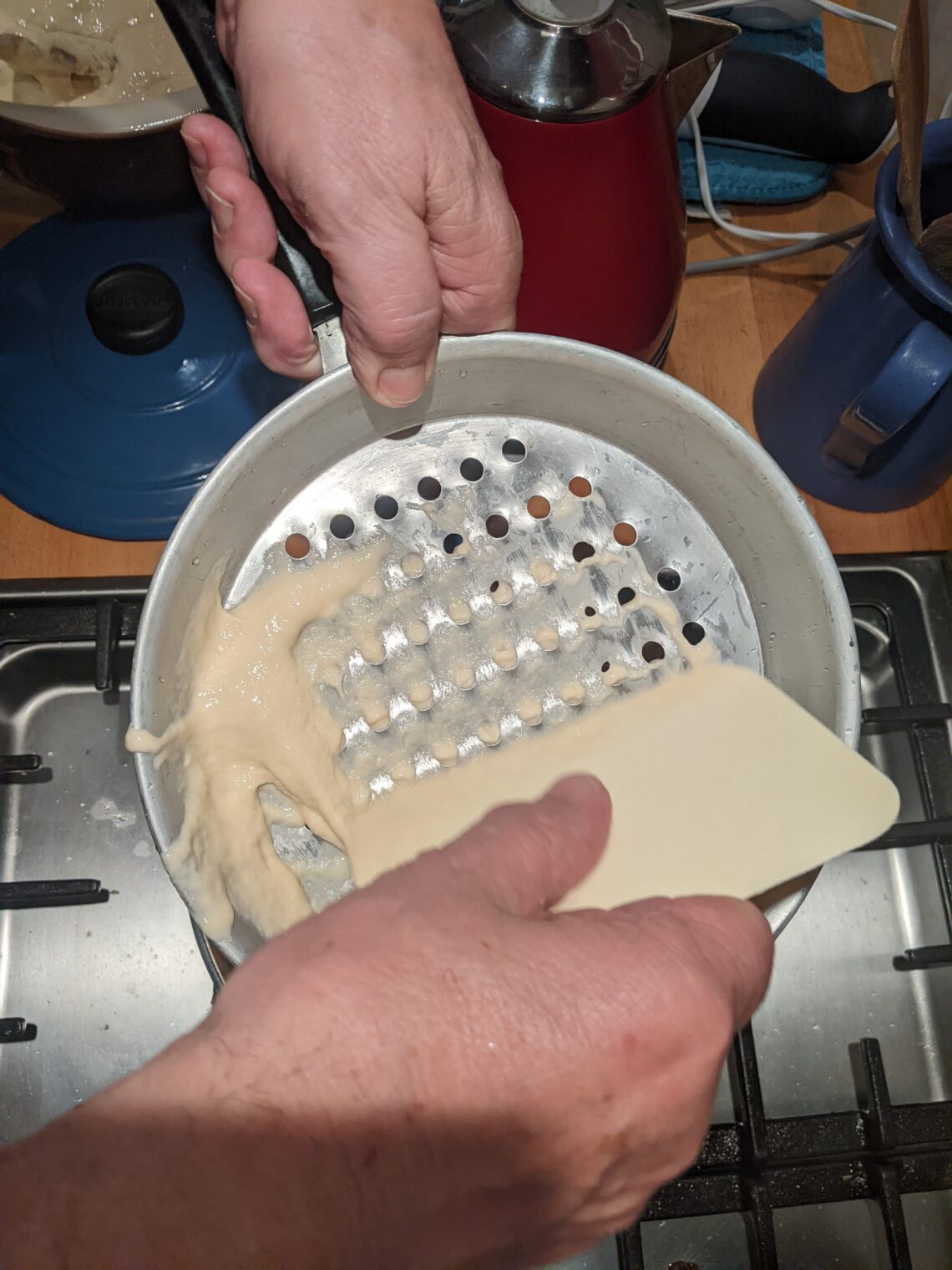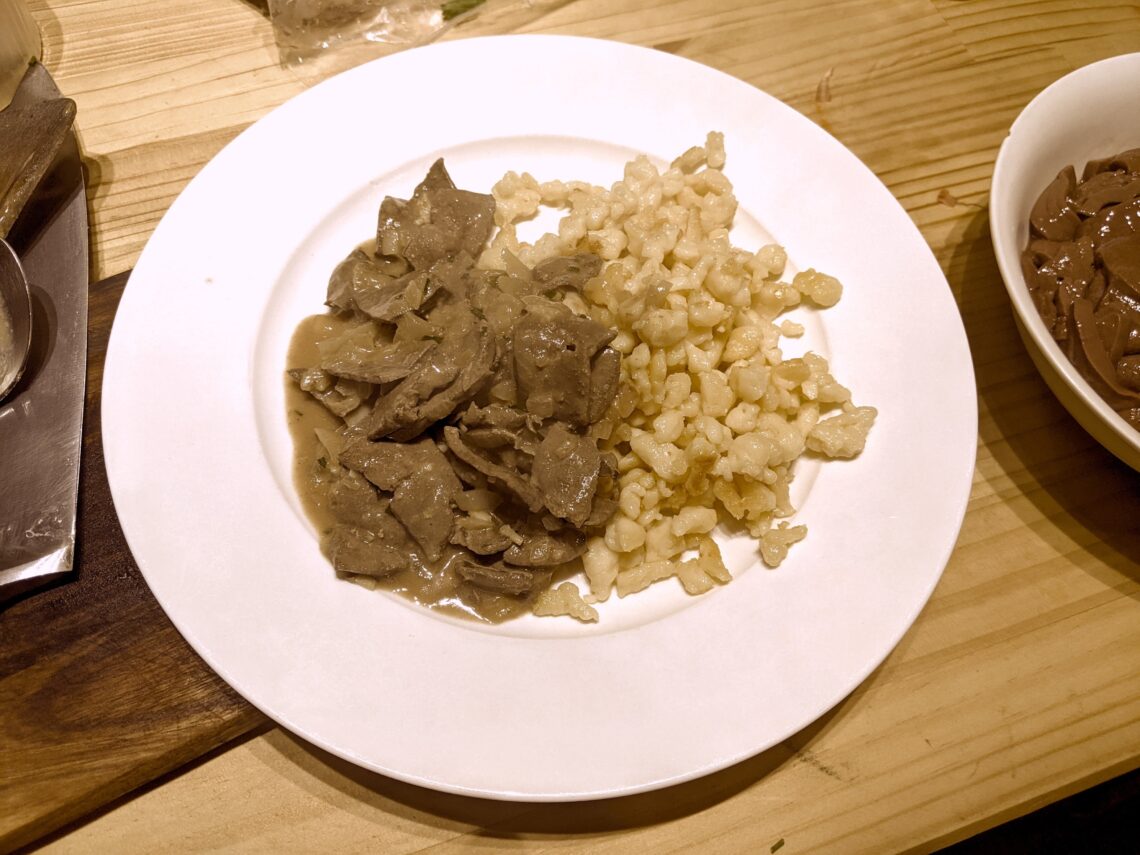 Beautiful Ukrainian bread with feta and herbs
This is a recipe from the beautiful Ukraine and it incorporates influences by the Greek community in Ukraine as well as from Moldova. We loved this one!
First you need to make the dough.
Makes 4:
200 ml of cold water
1 egg lightly beaten
450 g of plain flour, and some for dusting
400g of feta cheese, crumbled
Sunflower oil, sea salt
Parsley, coriander, and dill
Mix the Kefir with sunflower oil, vinegar, sugar and salt.
Mix the flour with the bicarbonate soda and then mix it all with the kefir mixture. The dough will be soft. If sticky add some flour when you need it. You want a non-sticky but soft dough.
Divide the dough in small balls after you had it rested for 30 minutes. Roll it out in thin round circles. Finely chop parsley, coriander, and dill in equal proportions. Sprinkle a mixture of feta cheese and the herbs on the dough. Brush the edges of the dough with a whisked egg. Then fold the outer layers of the dough with the beautiful mixture towards the center. Again, top with the cheese and herb mixture. Now fold the top and bottom layer towards the center and on top of each other. You should end with a square like shape.
Heat up sunflower oil and gently fry the breads on both sides. Eat immediately.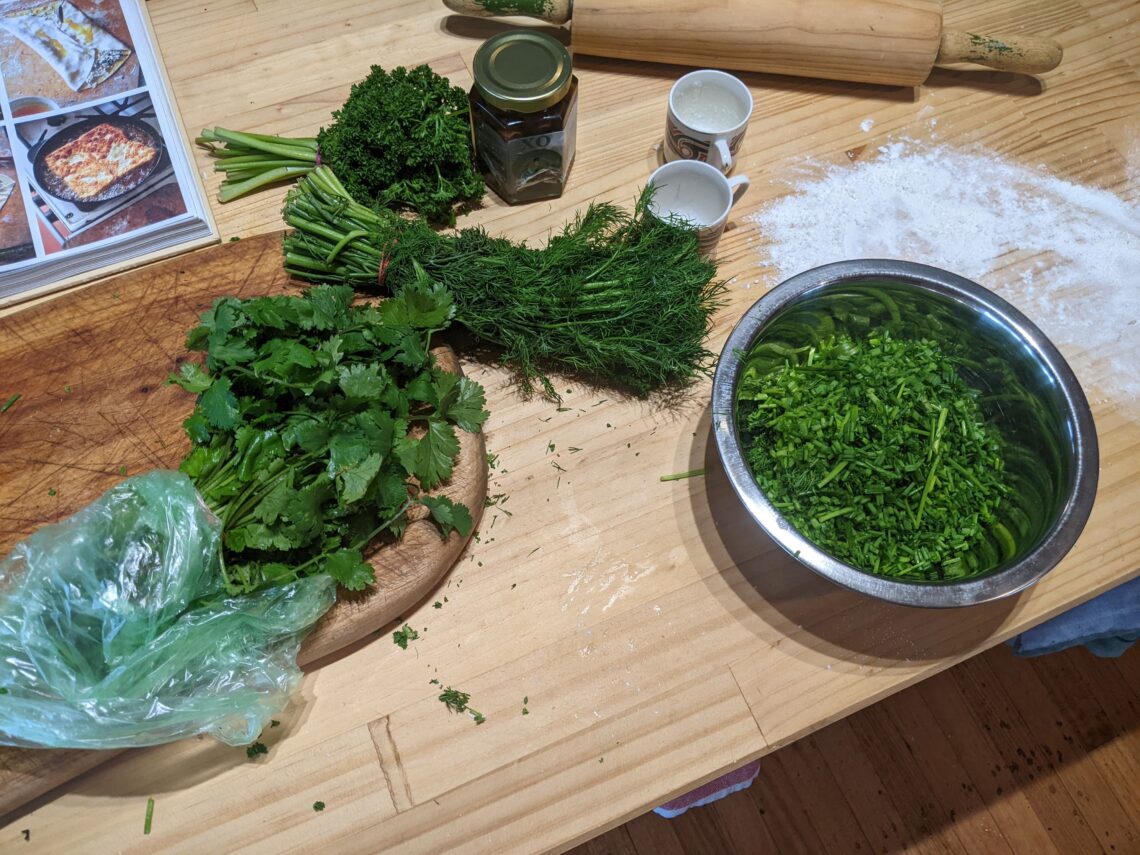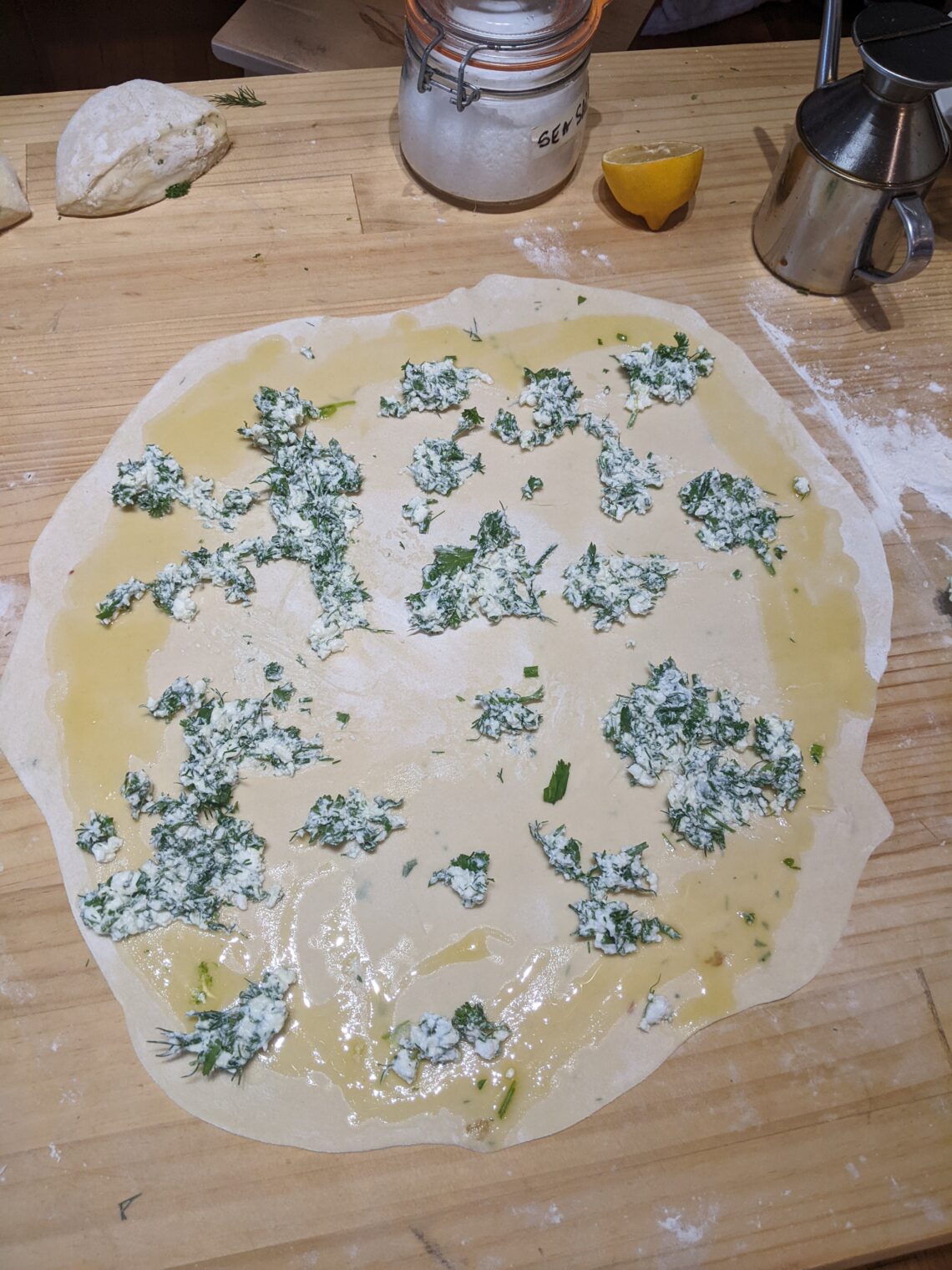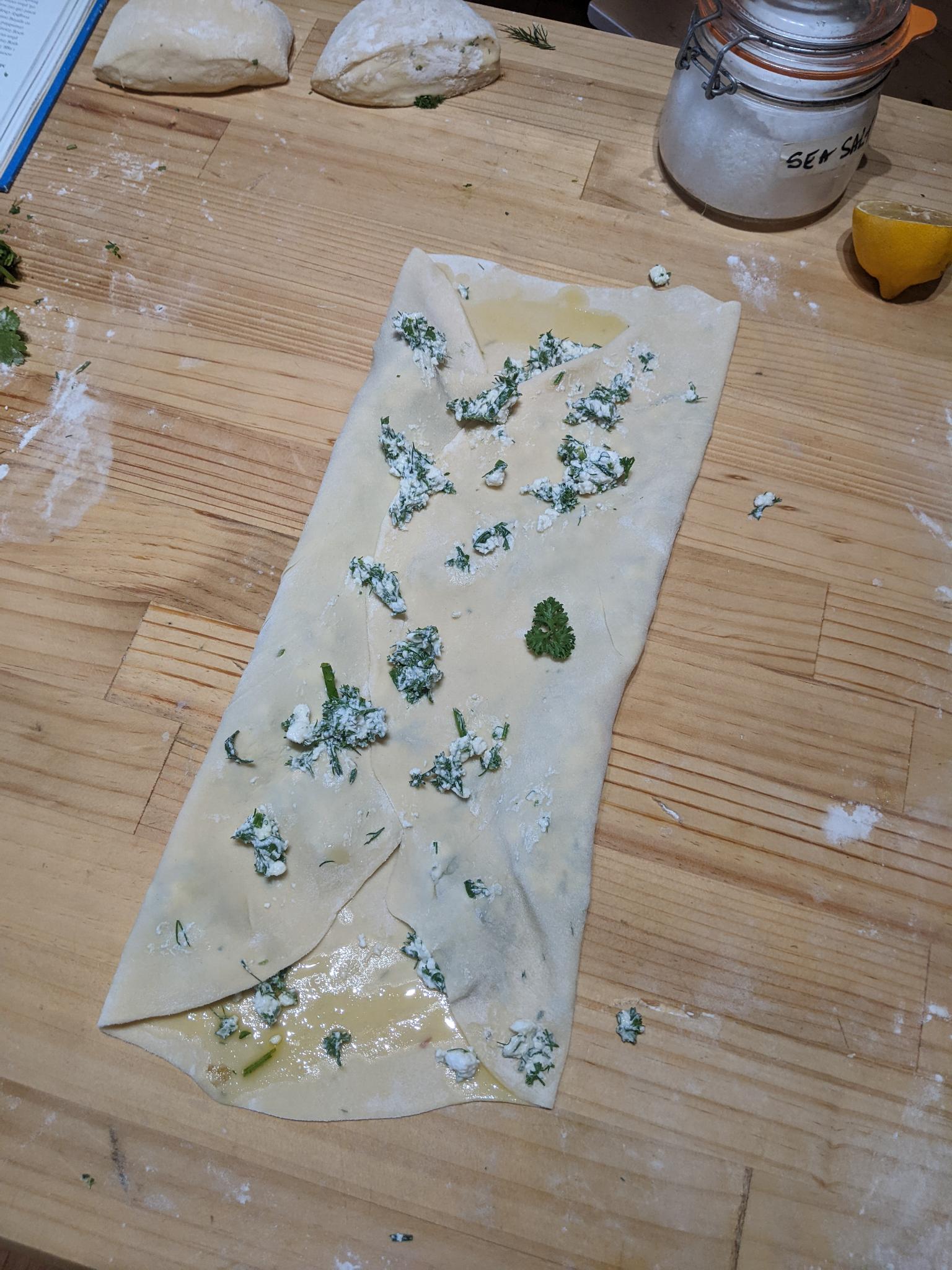 BBQ chicken with Kefir and herbs
Another dish from Ukraine, this now has become one of our all time BBQ favourites!
1 tablespoon sunflower oil
60 grams of coriander roughly chopped
60 grams of parsley roughly chopped
250 g Kefir (or natural yogurt)
75g clear honey
2 table spoons of pir-piri sauce
1 kg boneless chicken
Sea salt and fresh pepper
For the marinade mix all the ingredients except the chicken with a food processor into a fine and smooth mixture.
Pour it into a larger container and check if you are happy with the taste, adjust as you like.
Put in the chicken pieces, rub the mixture into the meat and leave it overnight in the fridge.
Heat the BBQ but make sure you use wood or coal. It makes all the difference and gas BBQ cooking isn't giving you this perfect flavor.
Cook the marinated chicken on the hot BBQ. Eat immediately.
The chicken was incredibly tender, and the flavors elegant and gentle- what an amazing beautiful dish.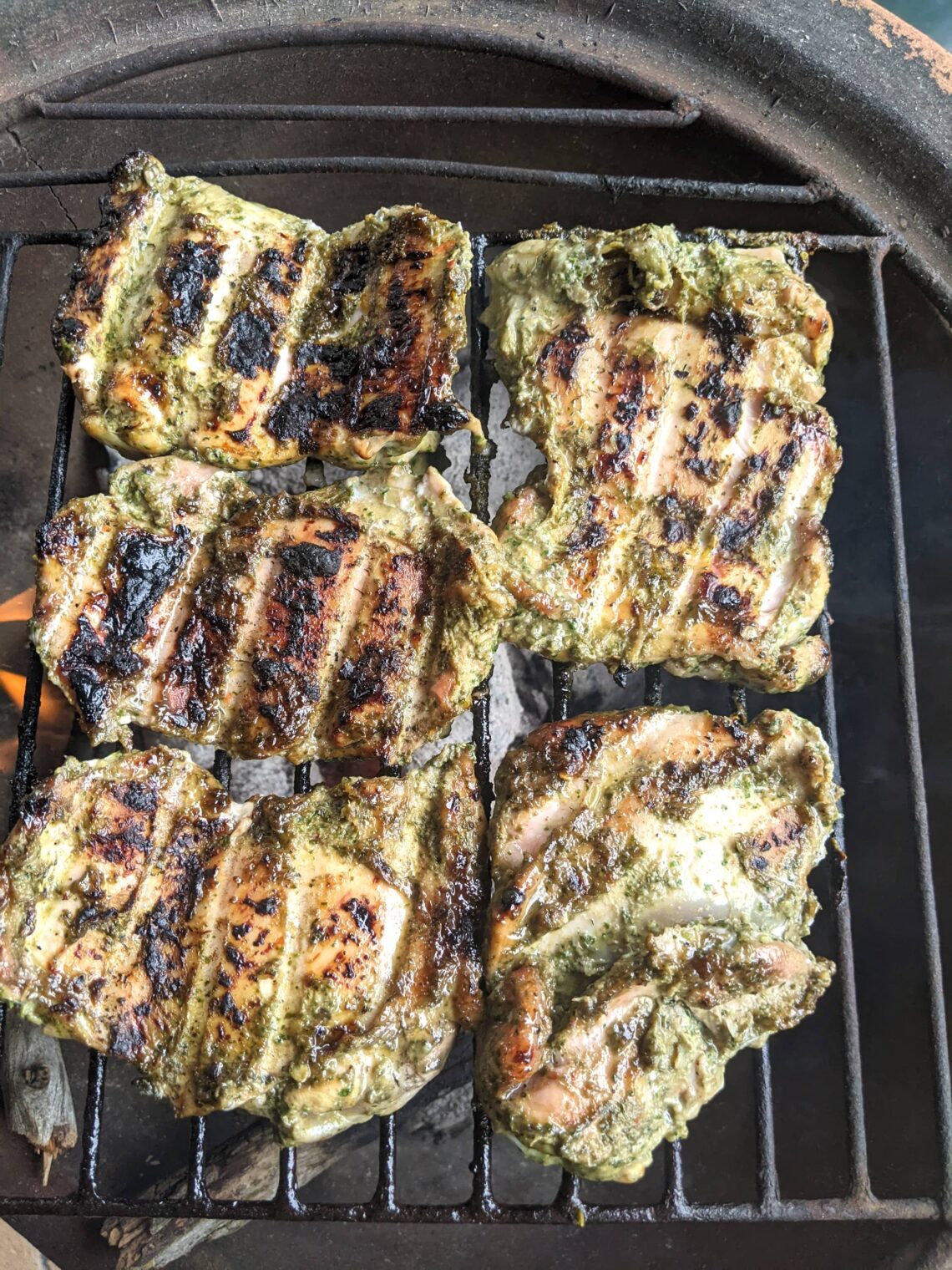 Pork backstraps in red and green marinade and cooked on BBQ
Here is another dish, easy to prepare and fun to cook. We were experimenting with the Ukrainian kefir and herbs influence and also used the South African peri peri sauce – you can't go wrong with this. The trick here is in the combination, Ukraine meets South Africa in Australia!
OK, so we need:
Pork back straps
Kefir sauce:
Kefir
Chopped coriander and dill
Salt and pepper
A little bit of sunflower Oil
Peri Peri sauce:
Garlic
Red wine vinegar
Olive Oil
Salt
Salt and Pepper
Birds eye chilli
Fresh bay leaves
Smoked paprika powder
Mix the ingredients for both marinates separately and rub the meat. Leave it rest for a few hours.
Cook over char coal. If you have some spare sauce keep adding on to the meet while it cooks. Make sure that you don't overcook as the pork straps could dry out on the fire.
Cut in slices, serve immediately and eat with a salad of your choice and ideally with charred potatoes (with their skin left on) cooked directly in the embers.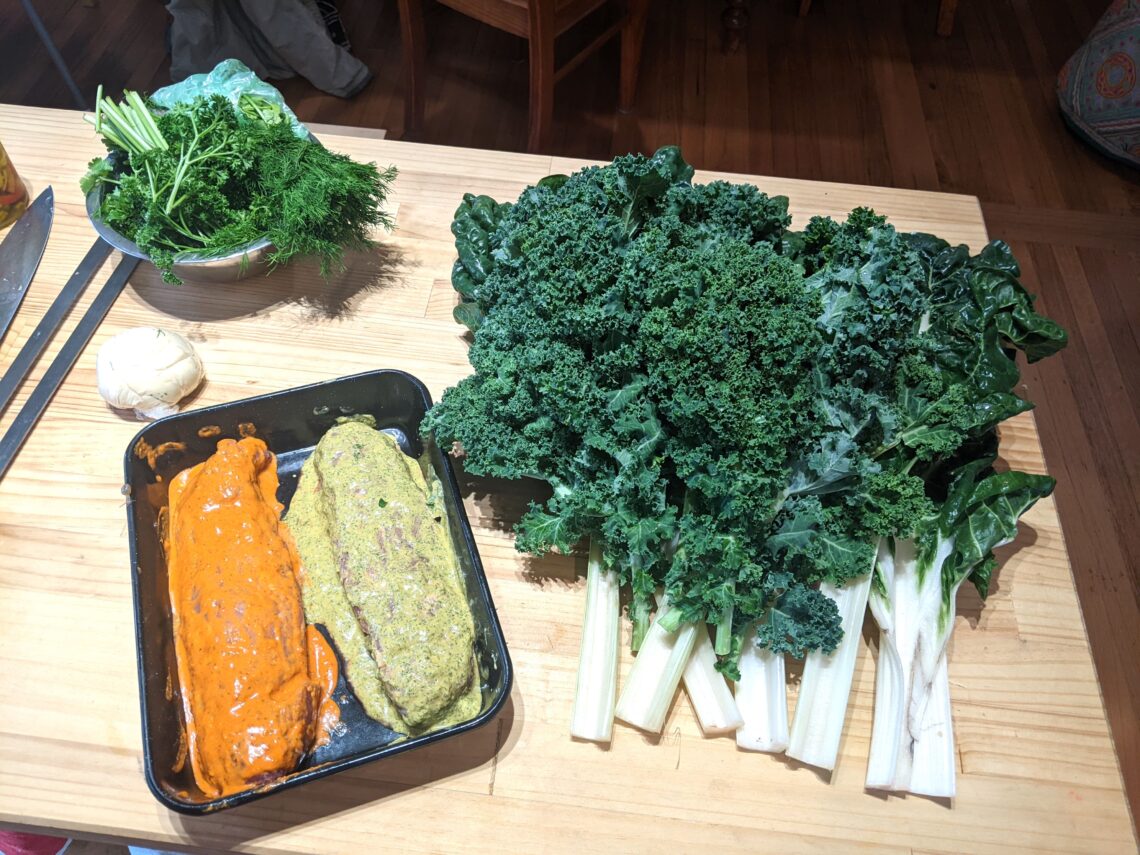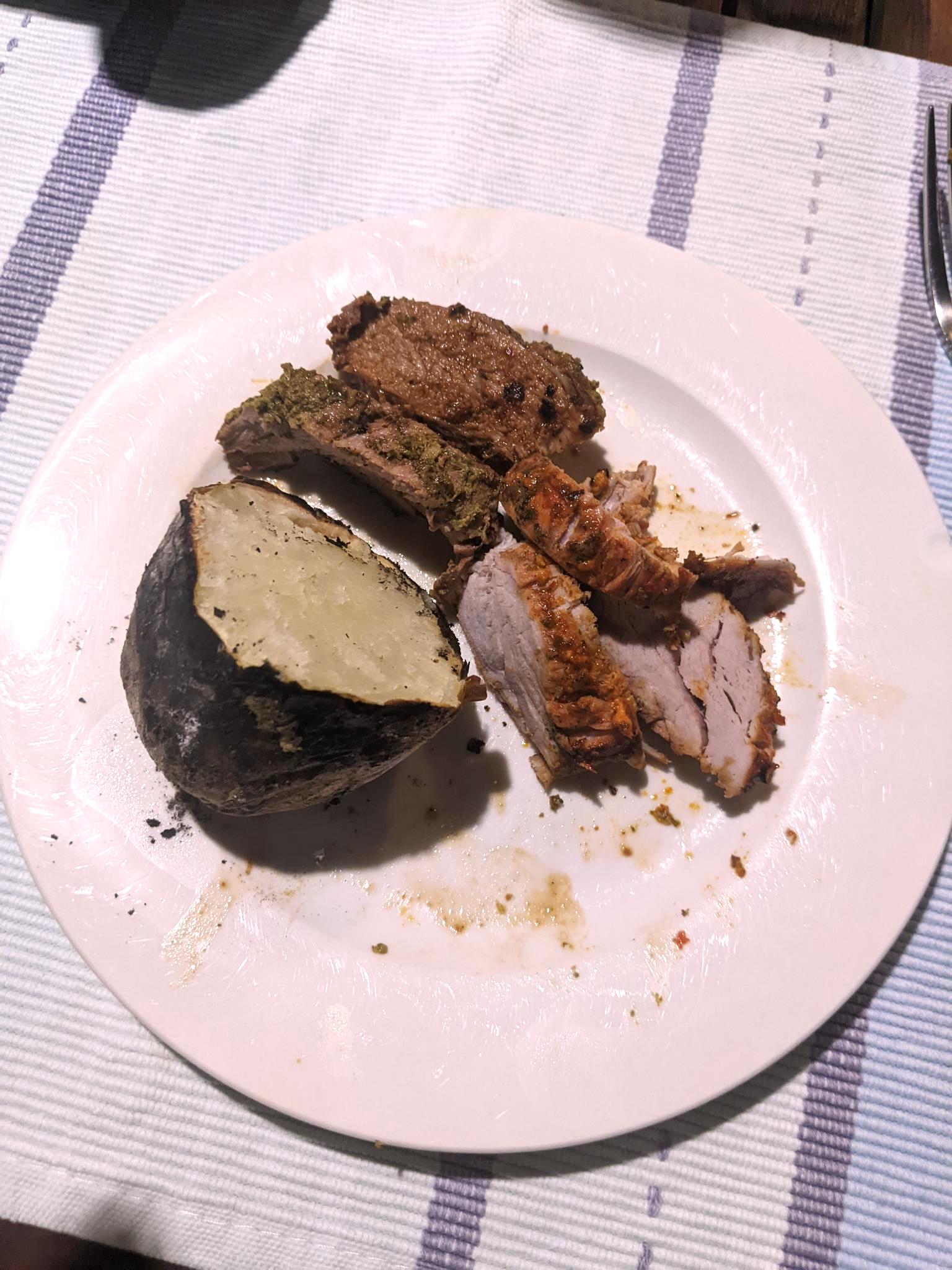 Cotechino sausage over lentils with rich tomato sauce
1 Cotechino Sausage
2 cups of brown lentils
2 bay leaves
Salt and pepper to taste
Tomato sauce
Boil the sausage for 30 min then grill over a charcoal fire for another 10 min. Set aside and let it cool down so you can cut into 1 cm slices.
Boil 2 cups of lentils in lightly salted water till soft and add the garlic and bay leaves.
Salt and pepper to taste.
Cook up some rich tomato sauce to your own taste.
Place the sliced sausage over the lentils and tomatoes in a baking dish and bake in the oven at 190 to heat up (10 – 15 min).